Policing in Fairfax County and the City of Fairfax
Like communities all over the country, Fairfax has seen the disproportionate policing and incarceration of people of color. SURJ Northern Virginia particularly is concerned with the death of Natasha McKenna at the hands of the sheriff's deputies in the Fairfax Adult Detention Center in 2015, and the death of Giovanny Martinez (also known as Amaya Gomez), by one of the same sheriff's deputies in 2016. Yet these deputies and the sheriff still hold their positions and work with mentally ill people. SURJ works to hold law enforcement accountable for racist policing.
Take it Down
Throughout Virginia, streets, schools, and monuments are named after confederate "heroes" and segregationists, who fought to uphold slavery and racial discrimination. SURJ works with local organizations to advocate that these names be changed to honor the kind of Virginia we want to live in. In the future, we hope to partner with groups fighting to change the name of the Washington football team.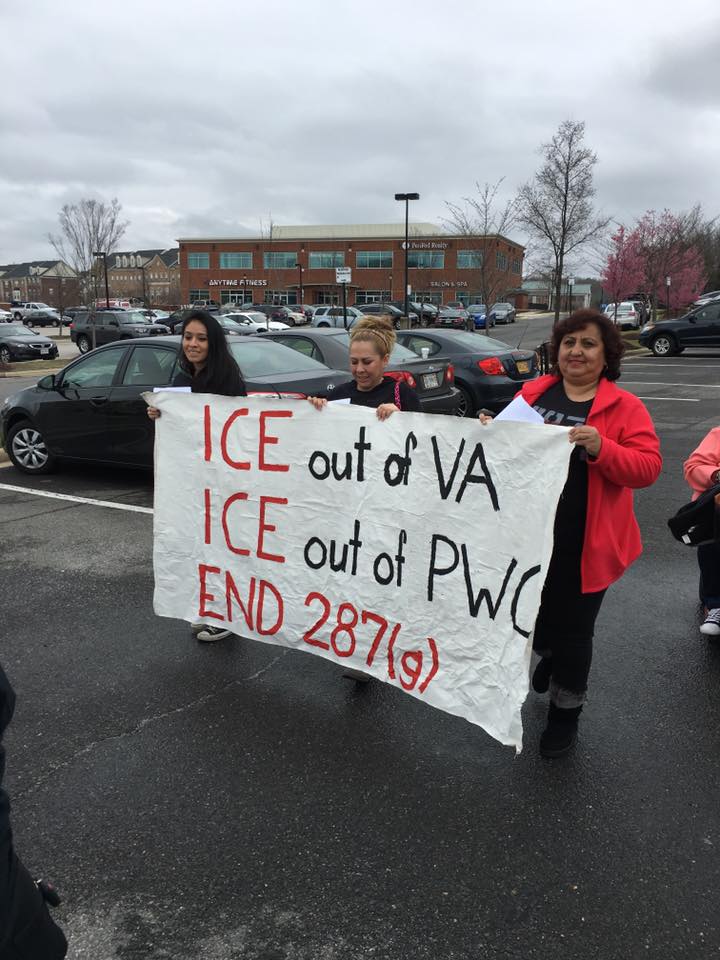 Immigration
Even before the current administration's draconian immigration bans, SURJ Northern Virginia has been showing up in solidarity with immigrants. We kicked off the protest at Dulles immediately following Trump's executive order, and we work with local immigration organizations to resist ICE in our cities and counties.

Families
SURJ Families engages in strategic play-action and supports each other in raising anti-racist children. SURJ Families meets once a month for play-action group at a members house. Suitable for children from 0-12 years. Contact families@surjnova.org to get involved.
Faith
SURJ Faith organizes faith leaders and faith communities to work for racial justice. This group is just starting up. Watch this space for more information!
Deep Canvassing
Deep Canvassing uses this tactic, described in the New York Times, to start conversations about race in neighborhoods in the Northern Virginia area. We're applying long-term, research-based strategies designed to push our neighbors to collectively re-think their support for systemic white supremacy.
No Sanctuary for Hate
White supremacist Richard Spencer is trying to start an "alt-right salon" in Alexandria. We say that Alexandria is no place for his hateful ideology. Why should Alexandria being a sanctuary for white supremacy, but not for immigrants and refugees? Join our regular protests and our efforts to shift the conversation in the local government about Alexandria as a Sanctuary city. Also, sign a petition to make your locality a sanctuary locality.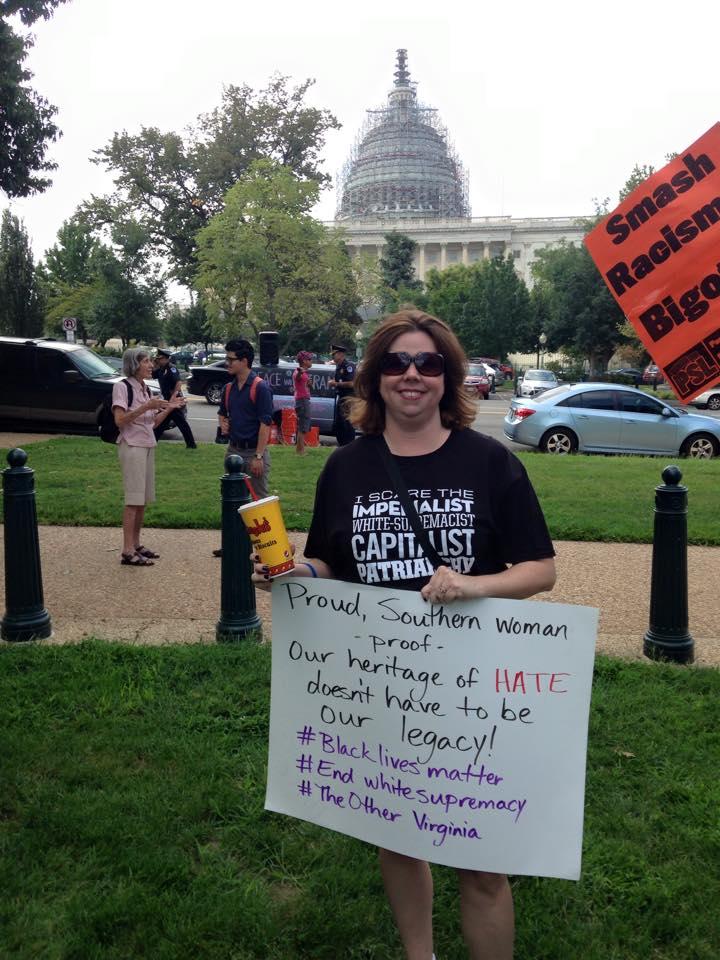 The Other Virginia
Virginia is more than just a legacy of hate. There's another history, another Virginia, that is about resistance and justice. We're part of the The Other Virginia. Are you?
Indigenous Solidarity
We stand in solidarity with indigenous groups to oppose the Dakota Access Pipeline, which violates the sovereignty of Native Americans and poses an ecological threat to millions. The project was deemed too dangerous for a predominantly white community, but safe enough to force on indigenous lands. The picture above is from an action over Route 66 during rush hour, near the Vienna Metro.
Islamophobia
Islamophobia has only increased with the beginning of this presidential administration. SURJ stands with our Muslim neighbors against hate. We've hosted bystander trainings on standing up to racist and Islamophobic harassment and discussions of structural Islamophobia. We <3 our Muslim neighbors!
Book Group
Our Nonfiction Book Group meets once a month to discuss readings on race. Past picks have included The New Jim Crow: Mass Incarceration in the Age of Colorblindness, The History of White People, and "The Case for Reparations". Currently, we're reading This is an Uprising: How Nonviolent Revolt is Shaping the Twenty-First Century. Newcomers are welcome any time, and if you haven't done the reading, we invite you to come enjoy the discussion anyway.